Bloody Mary Flank Steak with Fresh Squeezed IPA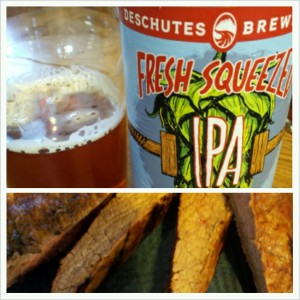 August 14th, 2013
The Beer: Fresh Squeezed IPA
Type: American IPA
Brewing Company: Deschutes Brewery
ABV: 6.0%
The Food: Bloody Mary Flank Steak
Details: Guy Fieri's recipe for bloody mary flank steak.
Bloody Mary Flank Steak with Fresh Squeezed IPA Review
The beer was great, the steak was okay, the two together were bad.
The Fresh Squeezed IPA is brewed by Deschutes Brewery in Bend, OR. According to the brewer, "this mouthwateringly delicious IPA gets its flavor from a heavy helping of citra and mosaic hops."
I have been a fan of the majority of Deschutes beers I have tried and this one is definitely one of my new favorites from Deschutes. The fresh squeezed IPA has a wonderfully fruity aroma. It is very hoppy yet has a strong citrus flavor. The fresh squeezed IPA is a nice refreshing drink and would be easy to drink on a warm day.
I was very excited to try the bloody mary flank steak. Unfortunately, it was a little dry. It most likely got cooked too long although it was cooked for a shorter time than the recipe called for. The bloody mary flavor was very subtle, you were able to taste it but just barely. It could be that the bloody mary flavor would have been stronger if it hadn't been cooked as long but it's hard to say.
The big question is: how was the beer with the food? The answer is: bad. The bloody mary flank steak seemed to remove the citrus flavor from the beer. It left a sharp hoppy flavor. This was really disappointing because the citrus flavor had made the beer so enjoyable to begin with. This is definitely not a pairing I would recommend as it ruins a great beer.
Tags: bloody mary, deschutes brewery, guy fieri
Posted in American IPA, Steak | No Comments »