Boont Amber Ale with Chili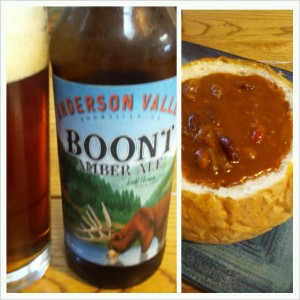 June 12th, 2013
The Beer: Boont Amber Ale
Type: American Amber / Red Ale
Brewing Company: Anderson Valley Brewing Company
ABV: 5.8%
The Food: Chili
Details: Stagg Classic Chili served in a sourdough bread bowl.
Chili with Boont Amber Ale Review
The beer was good, the chili was good, the two together were fine.
Boont Amber Ale is brewed by Anderson Valley Brewing Company in Boonville, California. The brewer claims the beer has "hints of sun toasted grain, toffee, and fruity esters" that work together to "compliment the mellow, noble hop aroma".
The beer has a beautiful amber caramel color to it. Looking at it just makes your mouth water. I was able to taste a bit of the toffee notes in the flavor. Boont Amber Ale was very good and had a nice balance of hops and malts. The flavors, however, weren't quite as rounded and smooth as I would have liked though I would certainly drink the beer again with no hesitation.
The chili was good. I'm a big fan of simple and easy dinners. This was both. The chili only takes minutes to prepare and then slap it in a bread bowl so the presentation is slightly enhanced. The chili had a bit of spice to it but it was certainly not too hot.
The big question is: how was the beer with the food? The answer is: fine. The combination of the Boont Amber Ale and the chili was good, overall. The flavor in both the beer and the chili seemed mainly the same. The flavor of the beer did technically change by just a bit but it wasn't really a noticeable amount and not enough to pinpoint what exactly changed.
Tags: anderson valley brewing, boont amber ale
Posted in American Amber / Red Ale, Chili | No Comments »