Ice Cream Sandwich with Espresso Imperial Stout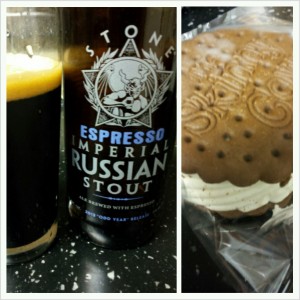 May 22nd, 2013
The Beer: Espresso Imperial Russian Stout
Type: Russian Imperial Stout
Brewing Company: Stone Brewing Co.
ABV: 11.0%
The Food: Ice Cream Sandwich
Details: Skinny Cow Vanilla Ice Cream Sandwich
Ice Cream Sandwich with Espresso Russian Imperial Stout Review
The beer was good, the ice cream sandwich was awesome, the two together were good.
The Espresso Russian Imperial Stout is a limited beer brewed by Stone Brewing Company in San Diego, CA. The beer was brewed in the historical style of an imperial Russian stout, but with the addition of espresso beans. The brewer advertises the beer's taste as "deep, rich fruity coffee and mocha flavors, intertwined with subtle vanilla and a fruity finish".
Russian Imperial Stouts are one of my favorite styles of beer. I felt the Stone Espresso Russian Imperial Stout was definitely good, but not my favorite. The aroma had both espresso and chocolate notes. The beer itself had a strong espresso flavor, which was to be expected, but it was a little more bitter than I wanted. I was, unfortunately, unable to identify any of the vanilla or fruity notes.
The Skinny Cow vanilla ice cream sandwich was of course practically perfect in every way. How can you go wrong with two cookies and ice cream all in a snack sized meal?
The big question is: how was the beer with the food? The answer is: good. The chocolate cookies from the ice cream sandwich added a stronger, more prominent chocolate flavor to the stout and also seemed to tame the espresso bitterness. Unfortunately, it also seemed to remove some of the espresso flavor which gave the beer it's name.
Overall, the pairing was good. Nothing to rush out and get but if you happen to have some Stone Espresso Russian Imperial Stout at home and some Skinny Cow vanilla ice cream sandwiches there's no reason why you shouldn't just combine the two for a nice dessert.
Tags: ice cream sandwich, stone brewing
Posted in Dessert, Russian Imperial Stout | No Comments »