Noche De Los Muertos with Ice Cream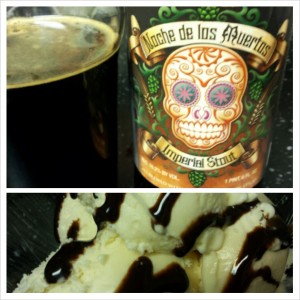 September 11th, 2013
The Beer: Noche De Los Muertos
Type: Russian Imperial Stout
Brewing Company: Aztec Brewing Company
ABV: 10.2%
The Food: Ice Cream
Details: Vanilla ice cream topped with Hershey's chocolate syrup.
Noche De Los Muertos with Ice Cream Review
The beer was good, the ice cream was awesome, the two together were great.
Noche De Los Muertos is a Russian Imperial Stout brewed with cinnamon. Aztec Brewing Company describes the beer as "big, rich and black as night".
This beer was definitely good but not my favorite Russian Imperial Stout. It had a crisp taste which was nice. I was a little disappointed that I could only taste a very small hint of cinnamon but I did like the extra cinnamon flavor.
The ice cream, as always, was awesome. We've been doing a lot of ice cream pairings lately because it's just such a nice way to end a summer day. We added some chocolate syrup on top which always strongly improves a boring vanilla ice cream.
The big question is: how was the beer with the food? The answer is: great. The combination really improved an already good beer. When paired together it added a creamy flavor to the beer which seems to be common in stout and ice cream pairings. The unexpected bonus from the pairing was it seemed to make the cinnamon flavor a little more prominent in the beer which was very nice.
Tags: aztec brewing, ice cream
Posted in Dessert, Russian Imperial Stout | No Comments »